Is green the color of silence?
Quebec residents living near highways often have to choose which of their senses will be attacked by the proximity of traffic: their hearing because of the noise, or their sight because of a concrete sound barrier. But what if they did not have to choose?
That's what Michel Labrecque, researcher at the Institut de recherche en biologie végétale and curator of the Montréal Botanical Garden, wants to propose: the Quebec introduction of a green technology that would replace our contemporary Berlin walls by a leafy alternative.
It would be possible to use a tight row tree plantation to serve as sound barriers. This technique, used for many years and in many countries (like Germany and Great Britain), is patented in Canada by The Living Wall Inc., a company already promoting its use in Ontario.
And the concept is very interesting. Vegetal walls don't only serve as a sound barriers, they also break winds, capture dust, host fauna, are aesthetic and are made from simple materials (wood, soil, plants). They are a very attractive alternative.
However, the technology had never been tested in a northern climate, like Quebec's. Mr. Labrecque, in collaboration with the Ministère des Transports du Québec and the Saint-Bruno city, decided to experiment it in the French province. In April 2002, Saint-Bruno residents saw go up what would be Quebec's first vegetalized sound lock wall. And neither the particularly cold winter of 2003, nor the attacks of de-icing salts, nor Quebec's funguses or insects got the best of St-Bruno's pioneer willows. The survival rate, after the first year, was almost 100%!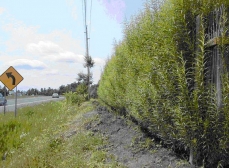 © Michel Labrecque
Willow sound barrier
The vegetalized wall succeeded in passing the test of Quebec's winters. Since then, it was left alone: it is the longevity test. Similar walls in Germany, 15 years old, have not yet lost aesthetics or efficiency. By abandoning this wall, without care whatsoever, the researcher was waiting to harvest precious scientific data. But surprise! What he truly harvested was emails and telephones. Hundreds of queries rained on our researcher. Saint-Bruno's living wall attracted the attention of common citizens, as well as many organizations.
Two steps have been successfully accomplished: survival of the living walls in our northern climate, and public interest for implantation of this green technology in Quebec. In a possible future, Quebec's residents sharing their urban space with highways may not have to choose between rest of mind and landscape beauty, but could choose both, thanks to Saint-Bruno's green pioneers.
To learn more about green walls, visit the Montreal Botanical Garden website.
Text by Michel Labrecque, curator of the Montréal Botanical Garden. Adapted par Mathieu Lanteigne-Cauvier.
Science +