Transcription of video clip Plantations and environment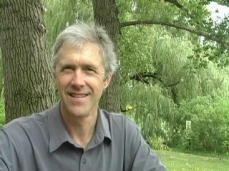 © Trees Inside Out (JBM-MVC)
Alain Cogliastro
My name is Alain Cogliastro, yeah.
I've been a botanist at the Jardin botanique de Montréal since 1990.
I have a research role on issues about forest ecology, which are focusing more and more on the cultivation of trees, forestry, linked with improving environmental quality.
My work is also focusing on agroforestry, that is to say the integration of trees or shrubs with agricultural crops.
That's the future.



Back to video clip