Transcription of video clip Water and the biomes

Changing landscape of a hickory-sugar maple forest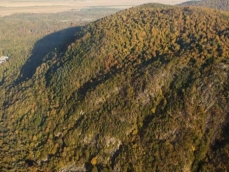 © Ville de Montréal – Air Imex Ltée.
Hickory-sugar maple forest» alignement=
In this maple grove, each tree has its favourite spot...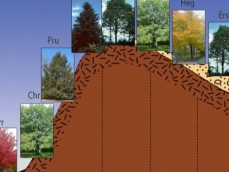 © Jardin botanique de Montréal
Hickory-sugar maple forest toposequence
The red maples take advantage of the humid soil and organic material that pile up at the foot of this slope.
On the escarpment, with thin soil and rocky outcrops, drainage is intense. This is the domain of red oaks, Canadian hemlocks and white pines.
At the summit, the dry, well-drained soil is shared by sugar maples, oaks and American beeches.


Down the gentle slope. The sugar maples are accompanied by American linden and bitternut hickory, which take advantage of the rich soil and imperfect water drainage.
At the bottom of the slope, the soil is extremely humid. The marshy edge is home to American elm and black ash.
On the contrary, the sandy soil near the river is dry – perfect for white pine.
Finally, silver maples grow easily in this poorly drained and periodically flooded environment.
So, in addition to the type of soil and the temperature of climatic zones, the distribution of different tree species depends on the quantity of water available in the environment.



Back to video clip